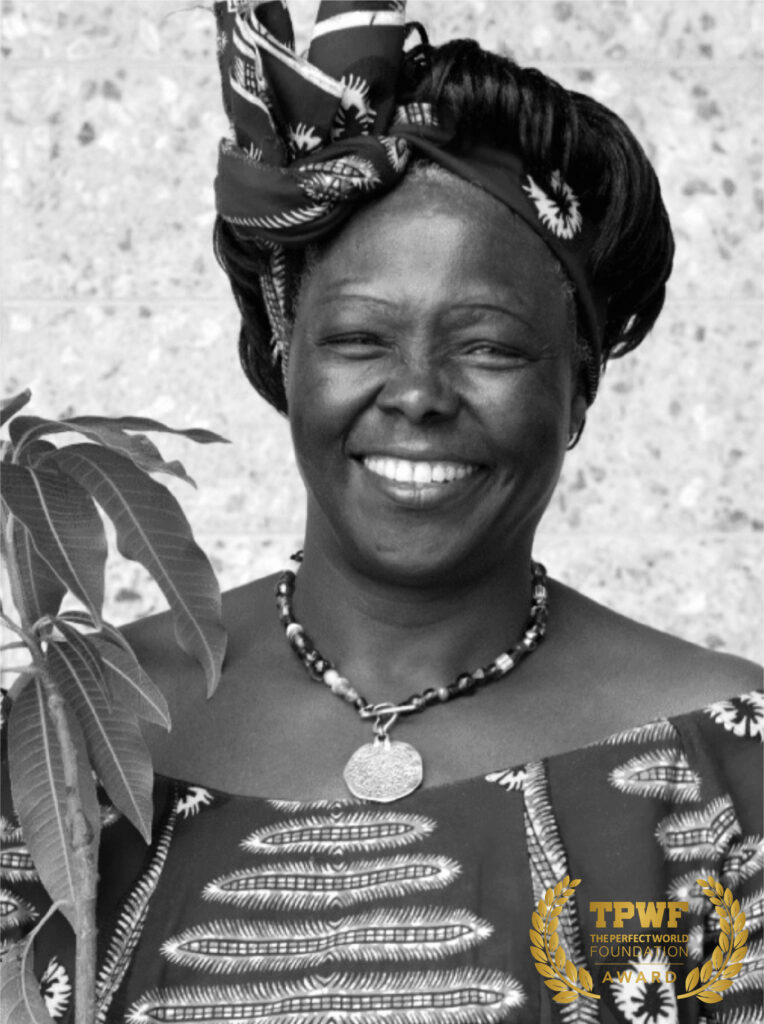 Prof. Wangari Maathai
"It's the little things citizens do. That's what will make the difference. My little thing is planting trees." – Wangari Maathai
2004 Nobel Peace Prize recipient Wangari Maathai was the first woman in East Africa to earn a doctorate, gaining a PhD from the University of Nairobi in 1971.
The Green Belt Movement began as a project of the National Council of Women of Kenya (NCWK), of which Maathai was a member. Women had been coming to the NCWK complaining of deteriorating environmental conditions in their rural regions. With streams drying up, and poor harvests, women had to walk further and further afield in search of firewood.
Maathai saw the solution clearly. Through the Green Belt Movement, she mobilized thousands of women and men to plant tens of millions of trees throughout Kenya. Her approach was practical, holistic, and deeply ecological: the tree roots bound the soil, halting erosion, and retained groundwater following rains. This in turn replenished streams, and the trees provide food, fodder, and fuel — maintaining the livelihoods of communities. Within a few years, Maathai realized that the illegal and corrupt privatization of public land necessitated a more systematic and comprehensive approach to conservation.
From 2004 to her untimely death in 2011, Maathai continued travelling the world campaigning for change. She urged action be taken on climate change, environmental justice, the protection of forests, good governance, participatory democracy, and women's rights within Kenya. She touched the hearts of rural women, heads of state, people of every faith, in her community and across continents alike. Wangari Maathai's legacy is exemplary of how one person can be a force for change.
Wanjira Mathai accepts the award in honour of her mother's legacy
Wangari Maathai passed away of cancer in 2011, and the award was presented to her still active organizations in honour of Maathai's lifelong achievements and legacy and was accepted by her daughter Wanjira Mathai during her visit to Sweden.